USA Bad Beat Jackpot Poker Sites
| | |
| --- | --- |
| See below for USA online poker sites that offer bad beat jackpots. Take a bad beat and score some serious cash. We highly recommend PokerHost as the software is great and Mac compatible. PokerHost also offers one the most generous bonuses available, 150% match up to $750 and also offers many re-load bonuses. | |
Bad Beat Jackpots for USA Players
USA Mac Poker Sites
Sign up Bonus
Comment
Download
---
About Bad Beat Jackpots
The Merge Poker Network offers the largest Bad Beat Jackpot. Bad Beat Jackpots offer a consolation prize to a player that has a solid hand but somehow ends up getting beat. And when we say a consolation prize don't expect a toaster or a beach towel, we mean some serious cash!
Get beat holding quads 7's or better and expect a few hundred thousand dollars to come your way. The bad beat jackpots at both poker networks have approached 1 million dollars, so being the bad beat victim can be pretty profitable as seen below. Another great feature at both networks is that if you were dealt cards at a hand where the jackpot is won, everyone at the table gets some cash.
Bad Beat Jackpots grow as an additional rake is taken from every pot that qualifies. The extra rake taken is insignificant to the size of the pot, meaning you won't even really realize it was taken out, but it adds up quickly to major dollars waiting to be won.
Look for specially marked ring games that offer bad beat jackpots. Play fixed, No Limit and Pot Limit Texas Hold'em, Omaha, and Omaha hi/lo at these USA poker sites that offer bad beat jackpots.
Jackpot Payout at Merge:
35% to the Bad Beat Victim
17.5% to the winner of the hand
17.5% to other players at the table
20% rolled over to reseed the next jackpot
10% to the house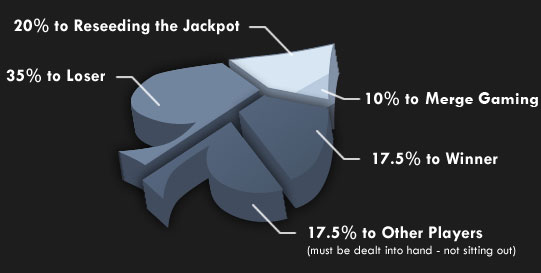 Play in the Jackpot on the sites that operate in the Merge Network, which includes Aced Poker, Carbon Poker, Lock Poker, and PokerHost and take part in a huge jackpot, generally over 1/4 million dollars!
The only other Bad Beat Jackpot available for USA players is at Americas CardRoom.
Jackpot Payout at Americas CardRoom
30% to the loser of the hand
20% to the winner of the hand
10% to remaining players at the table
30% to reseed the bad beat jackpot
10% to the house
If you play Texas Hold'em or Omaha ring games, why not take a shot at scoring some serious cash!